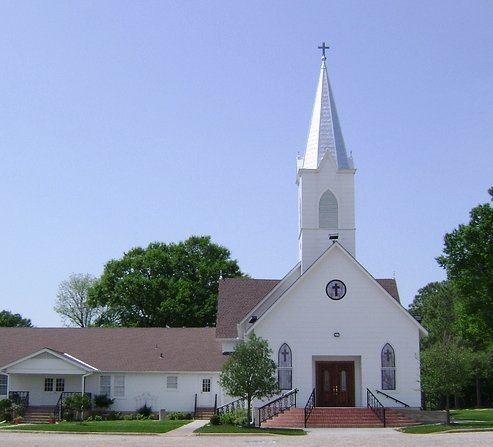 Please join us Sunday, April 18, to hear Bishop Michael Rinehart, Bishop of the Texas-Louisiana Gulf Coast Synod of the ELCA, preach at both worship services. You are also invited to a Question-and-Answer Session with the Bishop at 9:00 am between services.
Sunday Worship Services:
8:00AM: Parking lot worship service
9:00AM: In-person Sunday School & Adult Bible Study
10:05AM: Indoor worship service with the following protocols:
Mask upon entering and leaving the church.
Pre-packaged communion will be provided.
Seating to accommodate social distancing rules.
Hymn of the Day will be sung.
Visiting a church the first time can be stressful. We understand. Here are some of the questions that you might have, as you come to St. John Lutheran Church of Prairie Hill for the first time. (Also, don't forget to double check your directions before you come!)
Are children welcome in worship?
Yes! Absolutely! We think it is important for children to be present in worship. Being present in worship, children are shaped by the things that we say and do together in that hour, preparing them for a lifetime of faith. We also do not expect children in worship to act like adults – since they aren't. You will often hear babies and children during our worship services – and it is a joyful noise to the Lord! If the noise of your child is bothering you, there is a cry room in the back of the sanctuary where you can still see and hear the worship service.
How should I dress?
You will find that the family of St. John Lutheran Church of Prairie Hill is comfortable dressing in many different ways. You will find some  people worshiping  in jeans and T-shirts, while others wear their best Sunday suit, and everything in between. We welcome you to dress however you feel most comfortable.
Where should I park and where do I enter the building?
When you first arrive at St. John Lutheran Church of Prairie Hill, you will want to park in the parking lot in front of the church. Once you park, you can head straight for the front doors of the church building, where you will be welcomed by one of greeters.
What is the worship service like?
Our Sunday morning worship at Prairie Hill is both traditional and relaxed. On a given Sunday morning, you will hear both piano and organ music within an order of service shaped by our Lutheran history.
The sacrament of Holy Communion is central to our worship. At St. John Lutheran Church of Prairie Hill, we welcome all baptized Christians to join us at God's table, where we receive the body and blood of Christ.
If you have other questions, please feel free to contact us or visit our Facebook page.